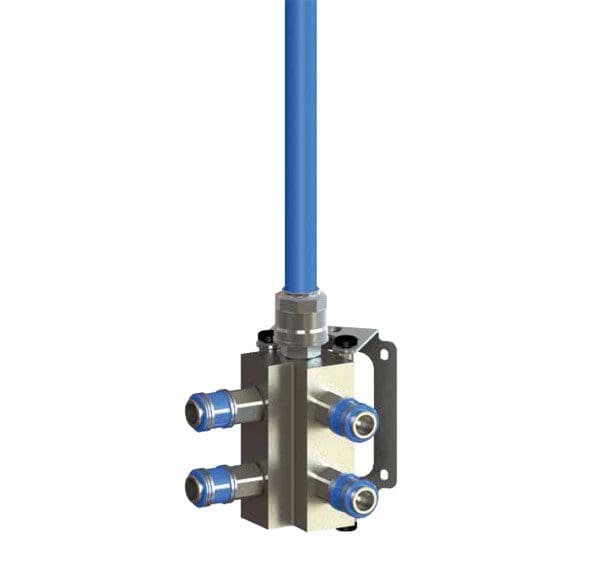 High-performance aluminium piping, fixings and accessories for commercial air compressors and compressed air systems.
Our non–corrosive extruded aluminium provides structural strength and delivers contaminate-free fluid in a leak-free piping system. The smooth bore of our piping prevents high-pressure losses and allows for higher flow rates and performance than that of other systems. No fluid leakage ensures minimum running costs.
Cost effective solutions
Galvanised steel and plastic piping systems have been the standard products used in the industry for years, however, these systems may be costing you a lot more than you realise. Galvanised pipe corrodes on the inside where it can't be seen, therefore reducing flow and increasing pressure drop. On the other hand plastic, if not bracketed correctly will sag and bow, creating potential condensate collection points.
The first all-metal piping system
Our new piping offers the first all-metal piping system, specifically designed with energy savings in mind. It's an extremely smooth corrosion-free pipe, complimented with easy install fittings and our patented zero condensate tee, all go together to keep the fluid flow laminar; therefore reducing turbulence, minimising pressure drop, and removing condensation. The high-quality standard set by the piping system also means that it is ideal for air, vacuum and nitrogen, and is available in a selection of colours to meet the required regulations.
Advanced push-in system
Forget about welding copper pipes, threading galvanised steel or screwing together plastic pipes. Our push-in system is as simple as pushing the pipes together for automatic connection, with no welding, gluing or crimping. Your new system goes up fast, and because the aluminium pipes are inherently stronger and stiffer than plastic pipes, you save even more time because they only require half the mounting brackets. That makes for a big saving inexpensive installation time. In fact, aluminium expands at seven times less than the rate of plastic, meaning our piping requires far fewer or even no expansion points.
Download Infinity aluminium product brochure (PDF) »
Helpful links